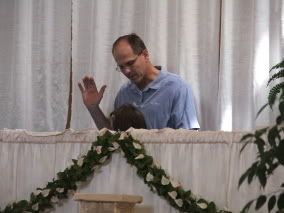 Today Amanda was baptized as a Believer in Jesus Christ. Terry's parents, brother, and our church family were there to support us and her in this momentous decision. It was a wonderful day for me. As parents, we so often wonder if we are doing things right, but in her making this decision, I know that I have taken care of her spiritual health (at least in laying the foundation properly). I am proud to now call her my Sister in Christ, in addition to daughter.
It reminds me of a story that I just heard. A man and his son made professions of Christ the same day. At the end of the church service, the pastor said, "We can welcome one and a half new lives into the Kingdom this day!" The man expressed his offense at the pastor implying that his son's life was just equal to half a life because of his age. The pastor corrected him, "No, he still has his whole life to live for the Kingdom. You have only half of yours left."
Amanda is unafraid to share about the God she loves. She has genuine concern for friends who do not believe in God or who do not attend church. I pray that she will continue to live her life with this eternal perspective, and that I will continue to encourage her and learn from her boldness.