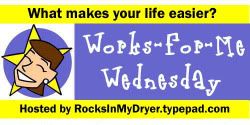 I'm once again joining in
Works for Me Wednesday
hosted by Shannon at
Rocks in My Dryer
. You can go over there each week and see links to many posts with great tips, or try to post one of your own next week. It's open to everyone.
I have figured out a way to give my 7 year old daughter incentive to do things routinely (without being reminded) and also encourage her to be extra helpful as well. It's called the marble jar. You need one empty jar with a happy face on it (I just used a Sharpie), one empty jar with a sad
face drawn on it, and some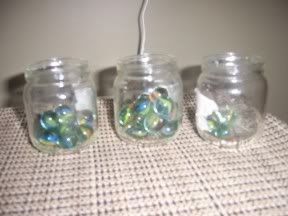 marbles. I will not identify which jar holds which of the marbles in this picture, so as to protect the innocent (or not so innocent).

When we started this process, together we decided things that would get her a marble in the "happy jar." These included getting completely dressed, down to her shoes, before coming downstairs. She also would get one for brushing her teeth before bed, without being asked (since I was still having to remind her most nights). Doing certain chores, right away when asked, such as feeding the dog, unloading the clean silverware from the dishwasher, watching her baby brother, doing homework in a timely fashion etc would also earn her a happy marble. She would get bonus marbles for being especially kind to her brother, or doing something without being asked that wasn't on the list, like getting the mail on her way in from the schoolbus. I recently awarded her one when I came downstairs and saw that she had turned off the TV and was reading her book.

The sad jar gets marbles if she argues with a grownup, doesn't do something after being asked, uses a disrespectful tone or look, does something that she knows she's not supposed to do, bothers her brother etc.

What really works for me is that using the jars takes the emotion out of a lot of our interactions. For example, the rule about being dressed and ready for school streamlined our mornings and made it so much simpler for me because there was no debate about if she had to have her shoes on before breakfast, if she could watch TV etc. Also, if she is doing her homework and getting up repeatedly, playing with her brother, talking etc, I can simply remind her that if she doesn't stay on task, she will get a sad marble. Again, no debates, no nagging, no procrastination, and even if she continues to delay, the sad marble speaks for itself, which means she doesn't usually argue about it, and I don't yell. In trying to be sure that I give her enough happy marbles, it reminds me to give her that positive reenforcement that she needs for those responsible things that she does that might have gone unnoticed or unspoken before.

The marbles usually speak for themselves, but I also wanted to start an allowance system, so I tied her allowance to the marbles. We subtract the sad marbles from the happy marbles and then I pay her 25 cents per marble.