I don't know if you are like I am, but I have many different types of friends, and I've come to view my regular blog reads like friends with different personalities. Let me introduce you to some of them:
The Best Friend:
I turn to her to give it to me straight, and she usually does. Her writing is warm and personal. Reading this blog is like having a chat with a friend. It probably covers many topics of interest to me, because we're alike in so many ways.
Supermom:
Does she really do it all? I think she does. She doesn't brag about it, but it's just who she is. I learn from her, and if she uses her powers for good and not evil, I am encouraged by her and not condemned.
The Mentor:
She's been there and done that. She could be a mom whose children are a little older than mine, she could be a more mature Christian, or just one who has already faced the current trial that I am enduring.
The Little Sister:
I might be a mentor to her. I might sense something in her that needs my encouragement as a reader. I am proud to see her growing and developing.
The Black Sheep:
This blog is nothing like me, and maybe that's why I am attracted to her. I read to open my eyes to new experiences and viewpoints. She isn't so extreme as to offend my sense of right and wrong, but she makes different choices, and I learn from them. She might even be a "he" in this case.
The Situational Friend:
In real life, this could be the fellow soccer mom, or church committee member. The common activity or event is what makes you friendly. This blog generally covers a particular subject: frugal living, books and reading, or recipes and cooking. I turn to her when I want to be inspired in that area or get more information about a specific interest.
The Class Clown:
She's always good for a laugh. She doesn't take herself too seriously, but sometimes she'll surprise you.
And then we even have the blog
friend of a friend
. Just as there are people you really enjoy when you see them at your friend's home, we get introduced through a post or reference by one of our good friends or her comments on posts that we also enjoy. Sometimes we just come across them in this way now and again, but often they end up becoming our very own friends as well.
Maybe your blog friends have different personalities than mine, but I'll bet you have a few of these in your bookmarks or in your bloglines, too. Check out
My Personal Favorites
in my sidebar for some of mine.
+++ >>> +++ >>> +++ >>> +++ >>> +++ >>> +++ >>> +++ >>>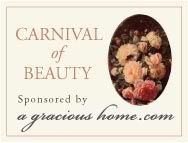 This is my entry in this week's
Carnival of Beauty
, the Beauty of Blogging. Check out the other submissions on this topic this Wednesday over at
relevantblog
.