Something New:


Coming July 28-- Would you like to know more about my home? Would you like to share yours? Click for more information:
Carnivals:
I am participating in one carnival this week, the Carnival of Beauty with the theme of the Beauty of Play. My post on Unfinshed Works is featured, as well as several other good entries.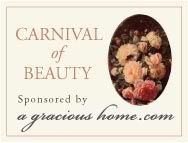 I do not have a post in these carnivals this week, but I am linking to them.
Dreams theme:

Posts about family life:

Speaking of links, I changed all my links to the nice maroon text.
I'm working on joining a couple of blogrolls and providing my own personal blogroll as well in the sidebar. Check it regularly for my newest reads and faves.