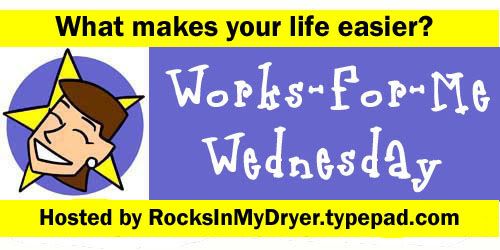 Isn't the Blogosphere great? We get tips each Wednesday, we find people who are like us, and who we wish we were like, and what we think we are like. But there can be a lot of clutter. I am relatively new at reading and writing blogs, but I've figured out some tips that help me out. I'm sure that some are old hat, but I hope that you learn one new trick. If you have some other great tip or tool, please share it in the comments. If you are not a blogging nerd, you might just want to skip this post.
Navigation:
If you click through to a specific post page (for example, this WFMW post page from Shannon's blog), but then you want to get back to their main page, just click on the header (like my Snapshot title).
Someone asked about this last week, and I know I helped her, so, I'll share again: in order to get a link to the specific post, instead of the main page, you can click on the specific title in the recent posts section, usually found in the sidebar. That's pretty obvious, but sometimes people don't have the recent posts listed, so if you click on the time stamp, that usually brings up the address of the individual post.
Management:
There are lots of great ways to manage blogs. Many people like bloglines. I like to manually surf--it's sort of like a treasure hunt for me, "Let's see if Katrina has anything new to say today." I added a Feedblitz subscriber link to my blog (on the upper left), and I think I will add some of my blog reads to it. It just notifies you once a day, which would tell me if I "missed" anything, but wouldn't spoil any fun treasure hunts. But I still want to manage the blogs I do read. So, I have a folder in my favorites called "Blogs" and then within that folder, I have "Faves." Those are my must read blogs. Then I have one called "Trials." If I come across a blog that looks like it might appeal to me (in a WFMW link around or someone else's link), I just bookmark it in Trials. Then when I have some extra reading time, I can read more of the posts. If I end up checking it frequently, I move it to my Faves.
A favorites folder that I end up using mostly on WFMW is "Act on." I read so many great tips, but then I promptly forget them. So now if it's something that I need to do (like getting rid of the Jello boxes and putting the much smaller envelopes in one jar), I save it right then into that folder. It's still there because I haven't done it yet, but since it's saved in there, I will hopefully do it, instead of just forgetting that I wanted to do it.
Sometimes I like to follow a comment thread. Either I've commented, and I want to see if anyone replies to me, or I want to keep reading what others have to say. I keep a separate folder in that Blog folder called "Comments." That just reminds me to check that post. Remember to use the tip about bringing up the specific entry before you bookmark it, not the main page, so that when you go back, what you were trying to track comes right up.

HTML:
You know you're starting to go over the deep end when you even know what this means (let's say it together--Hyper Text Markup Language). On blogger, you can use the compose tab, or the edit HTML tab. One of my favorite commands is "target ="_blank". When I add that to the string of text for a link (after the last "), it causes their browser to open a new window. This is good for the blogger, because they can check out your link, but not leave your site. I guess it might bug some people, but as a reader, I like having a new window opened so that I can finish reading the post, then check out the link.
I found a way to make that happen on my browser, even if their link is not formatted in that way. I learned this from my pop-up blocker. I can press the Ctrl key to override the popup blocker, when I do in fact want that window to pop up (like with spell check). So, when I click on a link in someone's blog, if I press the Ctrl key, it opens in a new window!
Do you have a cute graphic--like for a carnival or a book you are recommending? Want to turn it into a link? In your HTML code from pasting it in, replace the href= listing with the link where you want it to go. There should be that followed by the img src listing that have the same web addresss. You can change the first one, not the second one (which is actually the location of the picture). What about the Works for Me Wednesday banner up there? Click it now to see all the other tips for this Wednesday! Don't worry, I also added in my "target ="_blank" command, so it will open in a new window, and then you can still leave a comment if you want. (I made this work using a blogger link on an old post, but I'm having trouble today, so I'm going to use an image uploaded from photobucket. I'll try to post in my comments the secret to getting a blogger pic to work, or someone else can tell me).
And before you leave, you might want to save this in your "Act on" folder if there is a new tip you don't want to forget.