Yes, I'm taking part in Laura's
30 Day Organizational Challenge
. With fifteen minutes a day, this area could look like new by the end of the month.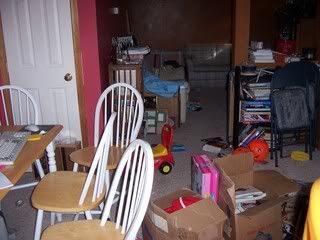 As I was commenting on her original post detailing the idea, I was wondering which area I would tackle, since I have recently conquered a couple of problem spots in my home. But then a sense of forboding came over me: Yes, it would have the be
the basement
. This is not a wonderfully functional large space in which to store all of the things you don't know what to do with. No, it only runs half the length of our house (the garage is the other half), and it is finished living space. It's a great place for the kids and their friends to play or watch TV, and is even divided into two areas. It's the area behind the TV part that is such a disaster. It seems to be getting progressively worse, in spite of the fact that I frequently go through and clean out and try to establish some sort of semblance of order. One problem is that this becomes a catchall for other things. If you look in the pictures, you will see many bags and boxes, full of either things that need to be donated, old clothes that need to be passed down, or clothes that have been passed on to Kyle that are still too big.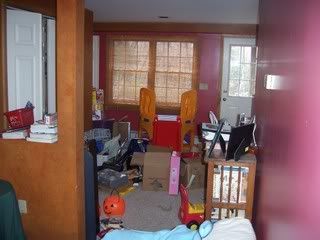 So, a trip to Goodwill, taking the hand-me-down clothes to my sister-in-law at Thanksgiving, and putting the other box in the attic where it really belongs will take care of many of those piles.
But there are areas that just don't get better, regardless of how many times I tidy up: the computer table collects stuff, the craft shelves are a mess. Look at that pile on the floor! It's not usually that bad, but I took it as it was today. I think that even though I've gone through these before, I just need to get rid of a lot of it. And then there's the closet. It's a horrible closet--no storage here either. It's just a small shallow closet with a couple of shelves. At the moment it stores some games (which I could maybe, and probably will move upstairs), boxes with some books in them, I think, old magazines (which I might purge), etc etc. The other doors that you see in the pictures are not a closet. It's the furnace. The other closet (behind the table) is the oil tank, so again, no storage there.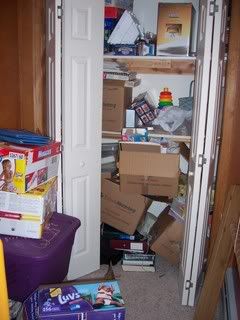 So, I have some vague ideas, but I still need help! Yes, I would love to install some great system along that wall where the table is, but I don't have the money to do that right now, so I have to just make do. I would love some ideas for using the shallow closet.