Terry and I have a rich family history of those who served in the military. Both of our dads were in the Corps of Cadets at Texas A&M University. His dad served in the Army for a number of years, and my dad served in the Air Force, even going overseas to Vietnam (in a non-combat role), but today I would like to spotlight our grandfathers. Three of our four grandfathers proudly served our country during World War II.
Pepa, Terry's maternal grandfather was in the Navy. If you think he looks a bit mischievous here, you'd be about right. Pepa served in Hawaii, at Pearl Harbor, and was there when it was bombed.
He and Granny didn't get married until after the war, but here's a picture of them shortly after they married. They traveled to Hawaii for the 50th anniversary of the Pearl Harbor invasion. Because Terry's parents live in the DC area, they were able to take him to the opening ceremonies of the World War II memorial. It is a beautiful monument, and I think he is proud to be honored by it.
Terry's paternal grandfather served in the Army. Texas A&M was all military then, and his entire class had to enlist shortly before graduation for some reason. Daddy Dick trained some of the African American troops in Virgina, and then served at Dugway Proving Grounds in Utah. Terry's grandmother joined him there and his father was born there. This picture is from their wedding day.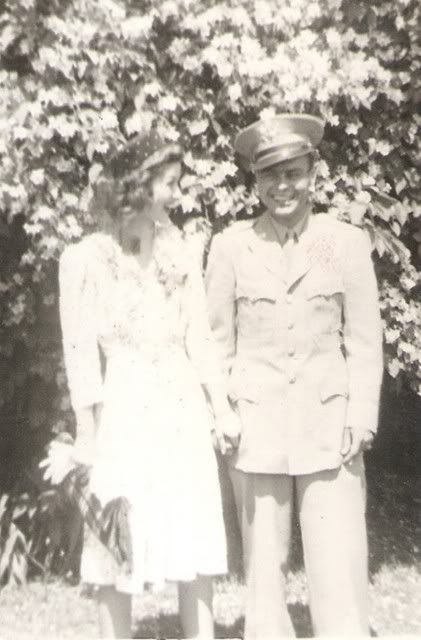 He managed to get transferred back to their hometown in Texas, which was great for Grandmommie and Terry's dad, because Daddy Dick was then was shipped to India. He was there about a year with a truck company which was carrying supplies to upper Burma building the Ledo Road, since the Japanese had cut the Burma road which had been the main supply route for China.
My maternal grandfather served in the Navy on a PT Boat during World War II. My grandparents were able to live in the same area in New York while he was training and waiting for more boats to be made. Mac served in Europe, and was in the area of Normandy when it was invaded. He used to tell a story about taking responsibility for getting an officer to England through a dense fog, and relying on God as his navigator. My mother was born after he was gone and he didn't even get to see her until she was over a year old (I think my grandmother was pregnant in this picture).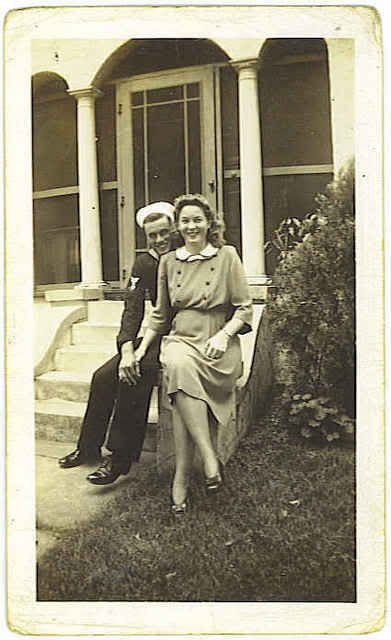 My grandparents went to France for the 50th anniversary of the Normandy invasion, and were able to see many of the European battlegrounds. In the last fifteen years or so, he and Mimi had become active with the PT Boaters' Association and were able to go to reunions each year in different places across the US.
This is real life history. History that my family was a part of. I am so proud of all of them, and proud that my kids got to know and love all of them as well. They didn't talk about their military service too much, but they have all shared other stories that I need to take care to record while they are still fresh.