Remember last month, when I posted the
mess in the basement
? Well, Laura got me thinking on what I really wanted to use the space for. She suggested that the closet, which I find small and useless with its narrow shelves, would be good for craft supplies and stuff. When the before picture was taken, I'm sure that I had had to upend everything in search of something, and never got it all back in. I hadn't been able to close the doors in a while.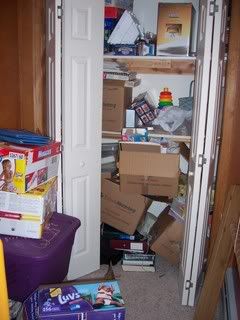 So, I took
everything
out. To be honest, the basement was an even bigger mess for a couple of weeks! I removed everything from the closet, and tried to get stuff out of the room that I knew I was going to get rid of (like the diaper boxes holding baby clothes--I passed them down to my sil), and the bags of clothes in the middle of the floor that had been waiting to be taken to Goodwill. I went through boxes, and threw away 2 large bags of stuff--papers mostly. But finally (yesterday, waiting for that final deadline to get me in gear), I put everything back neatly and orderly.
As suggested, I moved the craft stuff into this closet, which formerly was another giant mess (see below). Now it's very organized--that's scrapbooking stuff on the left on the floor, the craft drawers, and on the right is painting stuff. On the shelf above is storage on the left, office supplies are in the middle (in that shoe box with the orange hinged lid), and in the green file box is construction paper and stickers (in hanging file folders), and then coloring and workbooks. On the top right is beading stuff, in the middle is stamping stuff, and on the far left are extra containers--things I can use for future organizing efforts! What's great about this, is that instead of me going down and rummaging to find Amanda some glue or pipe cleaners or construction paper, she can get it herself!
One of the most amazing things is that all of this stuff was either thrown out (a fair amount) or moved to the closet, and that space now looks like this:
Yes, really! I'm going to move the bookshelf into either my son's or daughter's room, and try to just leave that area uncluttered. It gives the room a much better feel.
Yes, there are still a couple of boxes around--that white one to the left of the slide is my husband's youth ministry stuff, and since our church is hiring a new guy, that will be gone soon! The other box beside the bookshelf is my Bible study materials that I need to decide what to do with. And the one that you can see beside the chair is some stuff that I will either list on ebay or sell. Now, my other proud accomplishment is the space where that chair is used to look like this:
I again used Laura's theory about "like with like" and using designated space, and I moved all my cookbooks (which is what were on that little black bookshelf) on the single shelf above the desk in my kitchen. I got rid of some of them (and that was painful for me!) and there are some on the bottom of that bookshelf there. Then I was able to move that bookshelf back into the kitchen (which is where it used to be holding my bookshelves), and put it beside my desk with my writing stuff in it.
So, I think that I met my goal. The challenge caused me to rethink the space, and so I purged some of my cookbooks so that they are in a logical place. I moved all the games from that top shelf in the closet to an upstairs closet with other games. I got rid of some stuff, and stored a few things away. It is a basement, and we don't have any unfinished space for pure storage, so yes, there may be a box or two there on occasion, but I really hope to be able to keep that to a minimum and avoid it become a dumping ground like it was in this picture.
Thanks, Laura, for your daily encouragement, practical advice and keen eye, and for encouraging me to tackle this area once and for all!