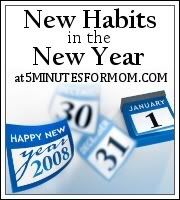 My
New Habits in the New Year
series at 5 Minutes for Mom ends today. If you haven't been following along. You will find encouragement and resources (that you can win!) for growing friendships, prayer, and going green among other things. Click on over to enter on each post individually by today.
Today I am featuring an interview with speaker and author Brenda Nixon over at 5 Minutes for Mom. You can read the full interview
HERE
, but here's a bonus bit of encouragement just for you:
How can we stop beating ourselves up for our shortcomings and just try to do things right from here on out?
Good question. Isn't it easy to beat ourselves up? Been there, done that. But if we remember that we're human and will make mistakes, I think it takes the pressure off to be perfect. One thing I always encourage parents to do is to treat childrearing as importantly as they would any other career. Do continuing education by reading books, going to parenting seminars, learning and growing so your parenting skills and your confidence level improves. One of the reasons I wrote, and hopefully the tone of, Parenting Power in the Early Years was to empower parents in their knowledge base so they'd be more competent and confident in their childrearing abilities. Thankfully, there's no one right way to raise kids. So if we do our best with our continuing education, we will have a happier and successful parenting experience.