Two years ago tomorrow, I wrote my
first post
. It's pretty corny. I was all full of self-importance. I wanted to write, and write I have.
I've waxed and waned, but I've hung in there. I don't think I've gone more than 5 or 6 days without a post. For the past few months I had been writing only a few posts a week, down from 5 to 10 every single week.
There are some reasons for the variances in posting. Blogging allowed that little writer within me to bloom. I (and friends who know me in real life) were surprised at the introspective thoughts that writing invited me to express. that often came out. In addition to that, I jumped into the blogging community, participating in carnivals, WFMW, and building a nice community of online bloggy friends. I am proud of a lot of what I wrote that first year about
my faith
,
my thoughts
on
being a mom
,
growing older
,
parenting
,
personalities
,
family trips
, and
life in general
(If you click the links, you can read a post that I selected from each area that I'd love to share with you).
Opening myself up to writing led to taking some online writing classes, pursuing freelance writing with sporadic determination, and some online writing gigs such as writing for
Faithlifts
(which I did for about a year), and writing for
5 Minutes for Mom
--first my weekly book column
5 Minutes for Books
, which led to taking on some product reviews and some behind-the-scenes work.
The last couple of weeks, I feel like I've gotten my blogging groove back. There are some logical reasons for that. I've been writing more, and once I start writing, my creativity is fueled (although I wouldn't say that
3 posts about Easter
is exactly creative).
I don't know if I knew how long I'd last when I first started the blog, and I know that I never expected so many people to stop in and read what I have to say, but thank you all. I know from looking at my daily hits, and finding myself on people's sidebars that many of you stop by and don't comment. That's totally fine with me, but
I'd love it if you'd take a minute to wish me a happy two-year bloggiversary.
Just as they ask the Superbowl quarterbacks after the big game, this is the voice I've been hearing in my head for a couple of weeks:
Jennifer, Snapshot--you just finished two years of blogging. What are you going to do now?
And I answer resoundingly,
I'm going to Disneyworld!
Yes, I'm actually going to Disneyworld in April. Thanks to my work for 5 Minutes for Mom, I've been asked to be a part of a small group of Mommy bloggers and Mom-geared website owners to the first Disney Mommy Blogger Mixer. I will leave it at that, but I will post more soon. I've been holding my tongue, but have fortunately due to furious Googling I've found some of the other attendees (and some of you will know
Mary Beth Whalen
, Steph at
Adventures in Babywearing
, Jo-Lynne at
Musings of a Housewife,
Amy at
Mums the Wurd
and more who are new to me (but won't be long), and we've been e-squealing and talking about what we're most looking forward to.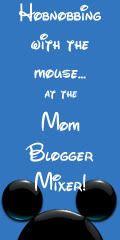 But enough about that--remember, today is all about me (and you).
Happy two year bloggiversary to me.
Thanks for reading.