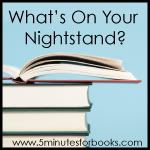 I am happy (and a bit surprised) to say that I actually finished everything on my
July list
except for
The Shack
by William P. Young. In spite of coming across a powerful review
at Big Mama
, I am not even sure if I'll get to it this month, but I might, so I'll leave it on the stack. I'm just not feeling it (I want to read it, but it just doesn't feel like it's going to get read this month. If I can't say that to fellow bookworms, who can I say it to?).
By far my favorite book that I read last month was
Harry Potter #5
by J.K. Rowling (which I just finished last night). I had been on a long Harry Potter break. It had probably been a year or more since I finished the fourth one, and it was delightful to return to Hogwarts. You'll notice that year six is not on my list. I think that I will take another little break, and draw out the final goodbye to these friends.
A few of these books do have an interesting story:
Pride and Prejudice
, for our
Classics Bookclub
. It's from the Complete Works of Jane Austen there on the bottom. I purchased that two years ago. After I had challenged myself to read one of Jane Austen's books for one of
Katrina's Reading Challenges
, I decided I'd definitely like to read more.

Wife in the North
-- It's a review copy, but I'm really looking forward to reading about the City girl who moves to Alaska after getting married.
Saturdays with Stella
-- Another review copy. I've started this one, and it's delightful. A woman makes application from the training of her poorly behaved dog to the way God sees us and we submit to His commands.
When the Labels Don't Fit
-- Another review copy that looks at parenting your children based on their personalities.
A Season of Night: New Orleans Life After Katrina
-- The author Ian McNulty is my new sister-in-law's cousin. I met him at the wedding last September. He's delightful and charming. He's a writer who lives in New Orleans, and I'm looking forward to this one as well.
Enchanted Thyme
-- This is another book with a personal connection. It's a children's chapter book, the first in the "Delicious Adventure series." It has a story and recipes. The chef is my friend
Amy's
brother-in-law (I met Amy on the Disney Mommy Blogger trip). Amanda's already given this her thumbs up.
Click on over to
5 Minutes for Books
to participate in this month's carnival, or just click over and see what the blogosphere is reading.