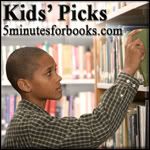 Amanda and Kyle and I are happy to be participating in the first monthly
Kids' Picks
carnival from 5 Minutes for Books.
I do enjoy reading about the books that my fellow bloggers are reading -- for example Katrina's
Fall and Spring Challenges
always add to my to-be-read list -- but honestly, it's books for Amanda that really interest me most.
If someone posts a book that their nine- to twelve-year-old child has enjoyed (or they have read as an adult and enjoyed), I am almost always sure to pick it up for her, and she almost always loves it.
So I'd like to share a book that my fifth-grader Amanda and I discovered this month:

Stowaway by Karen Hesse
We were at the library earlier this month, and this book was set out -- book side out, not in the shelf spine out (I love that the librarians highlight books like this for those of us who are highly suggestible). I thought it looked interesting, so I handed it to her, and to my surprise, she put it in her pile.
Once she started reading it, it held her pretty captive, so it seems that this one falls into the "Kid tested, mother approved" category. I love for Amanda to use her love of reading to also learn a bit about history as well, so I am always happy for her to read historical-fiction.
Amazon says this about the book: Newbery Medal-winning Karen Hesse's story is based on actual
Endeavour
stowaway Nicholas Young, about whom little is known. Using the real 1768 diaries of Captain Cook and shipboard naturalist Joseph Banks, Hesse has changed Young from a forgotten footnote into a living, breathing person with red hair and a penchant for pork chops. So authentic you can feel the sea spray, this fine fictionalized diary is a nautical treasure for landlubbers young and old.
I've posted about four-year-old Kyle's
love of Thomas before
, but I wouldn't want to leave him out. Yes, he loves Thomas. This month, I suggested to him that we read his
Complete Collection
in order, because at bedtime he always spends time figuring out which story he wants to read by paging through the book, and I got impatient at this delay of bedtime, and knowing that we were repeating some of them and leaving out others. So this month has been all about Thomas. However, we only have a few stories left, so next month we'll definitely have something else to report.