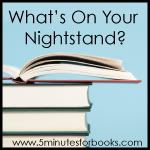 Well, this was easy, because I just
made a list
for the next three months for Callapidder Days'
Fall into Reading Challenge
.
These books are each currently in progress. Yes, I'm reading four books at a time. It's not unusual for me to have more than one nonfiction book going at a time, but I had to get started on Jane Eyre for the Classic Bookclub, so I started it even though I haven't been feeling like reading about Gothic depressed orphans. I'm sticking with it, and I know it will get better.

Jane Eyre -- Charlotte Bronte

The Professors' Wives Club -- Joanne Rendell

When the Labels Don't Fit

The Sexually Confident Wife -- Shannon Ethridge
These are books that I would like to get to this month as well. The first one is short and readable, so it should be easy to cross off my list.

What Happy Parents Do

Nightmare at the Book Fair -- Dan Gutman