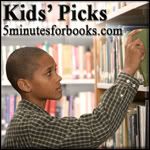 As I said over
at the post at 5 Minutes for Books
, I love the Tuesday Kids' Picks carnival. It's one thing to hear what adults have to say about various books, but I love to hear what kids are really reading and enjoying. I hope that more people will participate each month.
I asked Amanda (10) which books she really enjoyed this month. She had at least four or five books to choose from. Between
nixing weekday TV here
and the time that is allotted at school for free reading, in addition to the fact that she (and I!) have found some great books that cause her to choose a few chapters over other pursuits, she ends up reading at least a thousand pages a month. In addition to the
Newbery medal books
that she read and I reported on last week, the books that she proclaimed as "really good" are
If it was up to Kyle (4), he'd probably still be reading the
Thomas anthology
, but we have had some diversity this month. He loves to have Amanda read
Chester's Back!
by Melanie Wells, because it's a silly book and Amanda goes all out with the silliness when she's reading it to him. I've been meaning to post a full review on
5 Minutes for Books
, so hopefully you'll see more about it in the next week or so.
Another book that has been read more than once (more than once a week for that matter) is
Maybe A Bear Ate It!
by Robie Harris. This is a cute book about a cute little monster-ish creature who just can't go to bed without his book. He imagines what might have happened to it ("Maybe a bear ate it."), and in the end, he finds it. It's especially endearing to me, because both of my children had more board books than stuffed bears in their cribs.
What about you? What books have your kids enjoyed recently? Write up your own post and link it to the
Kids' Picks carnival
anytime this week, or just leave a comment over on that post.