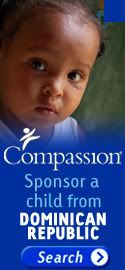 I'm here!
After a long day traveling on Sunday, we arrived here. Shaun did a great job of summing up the experience of "
meeting the blind dates
," and my roommate Mary (
Owlhaven
) made me out to be a roach-killing superhero. The only reason that I could do it is because it was a very small non-threatening roach, and I have experienced the giant disgusting flying roaches native to the Houston area (which I don't kill so fearlessly).
And I've learned some things about them--namely that they are all a lot of fun, but also that Melanie does not sweat, and Mary doesn't really sleep (which explains how she can write and blog and raise ten children).
Hopefully you've read my posts on 5 Minutes for Mom, but I thought I'd also point you, my faithful readers, to some of the other posts where you can check me out.

Brian
posted one of my favorite pictures from our first home visit. As soon as he sat down, this little guy went right to him. I don't remember us laughing that hard, but I guess the camera (and
Keely
behind the camera) captured the joy that we felt, but didn't even know we were expressing.

Melanie
captured a more serious, and very precious moment to me, when I was able to pray for the family before we left their home.
I know that some people may wonder what it's like here. Well, it's pretty hot and very humid. No one has gotten sick (from the food) as far as I know. We've eaten lots of rice and beans, and I've been enjoying plantains -- casseroled, mashed and fried.
If you have any questions for me about Compassion, or my trip, or anything, leave me a comment and I'll try to get them answered.
If you haven't been checking, please read though the posts at
CompassionBloggers.com
. All of the posts written will be there with a click-through the site. All of the posts I'm writing at 5 Minutes for Mom can be found on my
Compassion Trip Page
.