When I asked Amanda what her favorite read was this month, the answer came back quickly, "
Inkheart
." She read all 560 pages in less than a week -- a large part of it on Saturday morning when she stayed in bed for two hours after she woke up with her nose in the book. I actually had the chance to interview her on the way home.
What did you like about this book?

It was great! It really satisfied my craving for adventure.
Of course I had to ask for an explanation about that one.
Do you mean that it made you feel adventurous? To have your own adventures?

No. You know how I like to read adventure stories so much? Because I've been reading so many good ones, I have to find better and better ones. If a book is slightly boring, I can't read it. So, this one really filled my craving.

Well, okay then. I guess if you have to be addicted to something, "adventure books" are an acceptable vice
. Who do you think would like this book?
Oh -- everyone! If you like fantasy, definitely, but also if you like realistic fiction, because it's about a girl who goes on these adventures.
Isn't it about books somehow, too?
(Amanda had been sharing quotes with me from other books that were included in this one)
.
Yes, sort of. It's just a really great book. I can't wait to read the others in the series, and the The Thief Lord by the same author.
Inkheart
is a book I've heard a lot about, and apparently the praise was warranted. I heard that the second book (which she's reading now) and the third book aren't as good, but that is based on adults who are reading children's books. I also think that they get more mature, so we'll see if she's able to finish out the trilogy or if I make her wait. Any thoughts?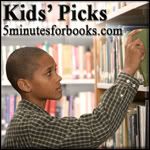 Find out what more kids around the blogosphere are enjoying at this month's Kids' Picks carnival at
5 Minutes for Books
.