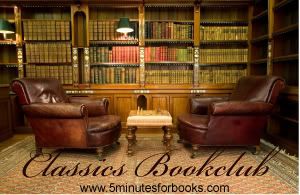 So, I finally read it. It's a short story/novella, but I kept putting it off, but thanks to the accountability of
5 Minutes for Books
' Classics Bookclub, I did it (and I did do it by
reading it online
, which worked well for this work).
At this time of year, it's so easy to get caught up in the superficial material part of Christmas, but this year especially on the heels
of my trip to the Dominican Republic
with Compassion International, I am determined for that not to be the case -- to focus more on others than myself -- more on giving than receiving.
What better reminder than Ebenezer Scrooge, or in this case Jacob Marley's ghost:
"At this time of the rolling year," the spectre said, "I suffer most. Why did I walk through crowds of fellow-beings with my eyes turned down, and never raise them to that blessed Star which led the Wise Men to a poor abode! Were there no poor homes to which its light would have conducted me!"
I found Dickens' words to be powerful and poetic. Even though this is but a short story, it is typically wordy in Dickens' fashion, but not overly so. I think that the words create the feeling. Reading it, I felt Scrooge's loneliness and saw his hardness melting away as he found his heart. My heart was pierced as Scrooge's was when the ghost of Christmas Present parroted his own words from earlier that day:
"They are Man's," said the Spirit, looking down upon them. "And they cling to me, appealing from their fathers. This boy is Ignorance. This girl is Want. Beware them both, and all of their degree, but most of all beware this boy, for on his brow I see that written which is Doom, unless the writing be erased. Deny it!" cried the Spirit, stretching out its hand towards the city. "Slander those who tell it ye. Admit it for your factious purposes, and make it worse. And abide the end."

"Have they no refuge or resource?" cried Scrooge.

"Are there no prisons?" said the Spirit, turning on him for the last time with his own words. "Are there no workhouses?"
Although it was published more than 150 years ago (1843), it feels very contemporary -- perhaps because it has infiltrated our culture. For example, Scrooge thinks that seeing ghosts is perhaps due to some indigestion, quipping, "There's more of gravy than of grave about you, whatever you are!" I say it's contemporary, but I'm not sure that our dialogue is nearly as clever now that I think about it.
But the stereotypical characters stand the test of time because they are so well-drawn: mean old Scrooge, hardworking and humble Mr. Cratchit, sweet Tiny Tim.
There are so many lessons to be taken:
What chains have I built for myself, and most importantly as this moral tale cautions, what am I going to do about it?
Am I willing to be taught by my past mistakes (and current ones), as Scrooge indicated when he was visited by the second ghost:

"Spirit," said Scrooge submissively, "conduct me where you will. I went forth last night on compulsion, and I learnt a lesson which is working now. To-night, if you have aught to teach me, let me profit by it."
Am as I patient with curmudgeons (or those suffering in their sins) as those who knew Scrooge were?
I wanted to read it aloud with my daughter, but I didn't. However, there's still time, and whether it happens this year or not, I
do
think that an annual reading of this classic might be a new tradition.
Read others' thoughts at the
Christmas Carol Classics Bookclub
post.