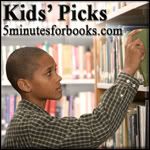 This month, I finally got my act together the day before the Kids' Pick carnival so that I could have Amanda actually do some guest reviews, instead of trying to give my take on the books she liked, or begging her for a quick quote as she rushed out the door to catch the bus. How could I not after
her DARE essay
which I published here received such kudos and calls of "Encore, Encore!"
So here are Amanda's (age 10) thoughts in Amanda's words (and typed by Amanda's fingers) about what she read and enjoyed this month (and need I say it
again
, but isn't she wonderful??):
Harry Potter and the Prisoner of Azkaban (Book 3)
:
"Harry Potter was a highly unusual boy in many ways.For one thing, he hated the summer holidays more than any other time of year.For another, he really wanted to do his homework but was forced to do it in secret, in the dead of night." Sounds strange? Does he sound like the kind of boy who has defeated an evil wizard three different times with his own powers? Surprise. Harry has got into even more trouble this year, his third year at the wizarding school of Hogwarts. This was my second time reading this spectacular book. It seems even better this time around. It's not quite as scary or suspenseful (keeping me up at night), because I kind of know what will happen, but not
when
it will pop around a corner at Harry.
Marley: A Dog Like No Other
by John Grogan (the children's chapter book):
Touching book. Funny. It was really good, but it made me cry at the end.
Savvy
by Ingrid Law:
Amazing. Fantastical. Interesting. Addicting -- I just want to keep reading and reading! I'm not sure why, because it doesn't have as much adventure as I usually like in the book, but there's just something about it, the way the story is told, that makes me want to keep going back for more. I'm less than halfway through this book.**
**Mom's note: I will feature a full review of this book in the coming weeks at
5 Minutes for Books
. I also enjoyed the book, but just because I did, that doesn't mean that Amanda will want to read it. The look of the book and the bookflap description have to grab her, or she might not even attempt to read it. I mentioned this book to her, she took one look at it, and kept asking me if I was finished so that she could read it. She abandoned the last couple of chapters of Marley (to postpone the inevitable!) to begin this one.
********
As for Kyle (age 4), he's back on a single-track, but this time the track
doesn't feature Thomas
. It features poems from the likes of Edna St. Vincent Millay and Robert Frost (along with many more whimsical poems). It's the
Big Book of Poetry
, edited by Bill Martin Jr. I gave a bit of a review earlier this week
here
, but I have to say that this book is holding up quite nicely. We've almost read all the way through, and Kyle has already said that when we finish, we can just start again. Every naptime and bedtime, he asks in his so-sweet four-year-old voice, "Will you read me some poems?" And because they are short, I never say no. It might be one poem or four, but something will be enjoyed from this book before he lays his head on his pillow.
Seriously -- if you're looking for a gift for a three to six (plus?) year old, I love this book, and anticipate it being a go-to gift for years to come.
He's also enjoying a few Marley books that I will also be reviewing on . One way I know he enjoys a book is when he "reads" them on his own, even if I'm not around.
Marley & Me: Meet Marley
(I Can Read Book 1) and
Marley & Me: Marley to the Rescue!
(I Can Read Book 1) are fun (and good beginning readers), and
A Very Marley Christmas
delighted him the first time we read it, and left him asking for more.
********
Be sure to check out my post on 5 Minutes for Books about the
publishing industry bail-out
and check out the
rest of the Kids' Picks
from around the blogosphere.