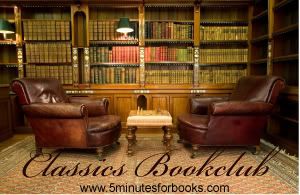 I don't usually go with the questions for the Classics Bookclub, but I think that I will for
I Know Why the Caged Bird Sings
. The main reason is that Lauren, Melissa and I had a little book chat for our first 5 Minutes for Books podcast (which will be available later this week), so I sort of feel like I weighed in already. But the other reason is that for a difficult book such as this it's easier to have guidelines.
So, I'll address a few of the questions
from the preview
. We discussed 1, 2 and 6, so I'll focus on some of the others:

3. In spite of the differences between her life and yours, what common themes resonated with you?

4. How do you think Maya was shaped by each home she lived in while she was growing up?

5. Which female in Maya's life do you think had the most influence (good or bad) over her? Explain your response.
Maya Angelou lived an isolated life, marked with abandonment and disappointment from the adults in her life, which obviously shaped her life. Unfortunately, because of the detached way the story is told -- more like a biography from a third-party than her own thoughts -- I don't know how it shaped her life. I just know the horrible things that happened, and because I know of her achievements now, I know that she did somehow overcome the sad and horrible circumstances that she endured.
Maya Angelou is most known as a poet, and that comes through in the lyrical and descriptive writing:
The wind blew over the roof and ruffled the shingles. It whistled sharp under the closed door. The chimney made fearful sounds of protest as it was invaded by the urgent gusts (page 153).
That language resonates with me. Some of the common themes I see include that juxtaposition between confidence and doubt that most of us remember feeling as we grew up.
I can definitely relate to the way she loved books. Along those lines, I think that the woman who affected her most was Mrs. Flowers, the woman who treated her like a young lady and introduced her to books. I think that those books truly opened the door to possibilities for Maya, and because they provided an escape, they may have saved her sanity -- giving her something to turn to in her times of trouble.
It was a hard book to read -- not only to process the racial wrongs that she experienced (along with all those who didn't write about it) --but the horrible things that she endured that had nothing to do with race.
One of the reasons I read memoir is to be able to experience and thus better understand what someone else went through, so in that vein I'm glad I read "Caged Bird" for the most part.