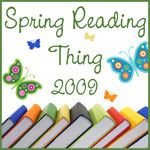 Guest posted by Amanda (age 10/5th grade):
My mom was telling me about
this reading challenge,
so I thought it would be fun to join in (and maybe win a prize!). I have thought about the books I might read between now and June 20, but I'll probably read even more. I think it will be fun to write down ALL the books I read this Spring.
Here are the books I plan to read:
I just finished reading
The Tail of Emily Windsnap
, and I found out that there are two more, so I am going to read them:
I read
The Time Travelers
a while ago, and so now I'm going to read the second in the series
The Time Thief
.
I'm reading some more series too:
I really loved
Uglies
, and so now Mom is reading it out loud to me, because I wanted her to read it. I want to read the others in the series, like
Pretties
but Mom might not let me yet.
I've also been trying to find the third book by N.E. Bode called
The Somebodies
. The first two (starting with
The Anybodies
) were great.
I want to read more about Anne Shirley, and so I'm going to try
Anne of Avonlea
. Mom found out she can get a whole set on her new
Kindle 2
, so I might read even more of them.
The rest of these books are
Nutmegs
, our state book award
I read one book by Wendy Mass recently that was a Nutmeg (
Jeremy Fink and the Meaning of Life
), and now I want to read ALL of
Wendy Mass
' books. She is the best author in the history of ever. I'm currently reading
11 Birthdays
, and plan to add the others that she wrote to my list soon.
My mom writes about books that I've liked for the 5 Minutes for Books'
Kids' Picks carnival
on the 3rd Tuesday of the month, so you can come back then to see which books I've enjoyed. I'll also write about ALL the books I read at the end of the challenge.
Now that you see the kinds of books I like, if you have any other recommendations, leave me a comment!!!!!!!!!!