The next week (and specifically the next couple of days) is going to be hopping here. I want to tell you why, and invite you to join me.
Remember this?
No? Yes? Well, I'm bringing it back. Look for details later today.
I've been working up my list for
Callapidder Days
' Spring Reading Thing. It seriously is THE booklovers' blogging event of the season. If you've never participated, consider joining in.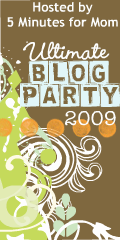 Speaking of big bloggy events -- I'm hard at work on my posts for
5 Minutes for Moms
' Ultimate Blog Party -- both at 5 Minutes for Books and here. But that's not all!
I'll be tweeting the "site-warming party" tomorrow night. What exactly does that mean? Follow me at
twitter.com/jenndon
to find out.
Then -- pending arrangements for my children -- I will be
partying live
in New York City on Wednesday at a
One2One Network
party with some other great local bloggers (if you know me, you might be smiling at my use of the word "partying." It's a relative term). I hope you'll consider joining in if you never have. There are even all sorts of prizes to be won!
Speaking of what I've been up to, here are some recent reviews you might want to check out:
Books on Screen: The Kite Runner
-- I wasn't sure what to expect from this movie. I'm proud of my review, and you can even enter to win a DVD, so please check it out.
I also wasn't sure what kind of response I would have to
Sixtyfive Roses: A Sister's Memoir
, but I really enjoyed it (there's a copy up for grabs for this one, too).
Speaking of giveaways, I've put a couple of new ones up at 5 Minutes for Giveaways this week. Check out
Hannah Montana's Secrets Unlocked Online
and a fun giveaway of
MaraNatha organic nut butters
.