Amanda (age 10) read
Les Miserables (A Stepping Stone Book)
(against her will!). I would say that this version was oversimplified and could be read by a much younger child (maybe eight on up).
Since she was under duress, the prosecution was able to feed her questions for the purpose of the deposition. I asked her some of the questions from the preview post, but quickly realized that having her tell me her thoughts on some of the characters would be the best approach to seeing what she might have learned from the book:
Javert:
I didn't like Javert because he was evil. (
Why do you think he made the choices he made?
) For a reward or something? (
Do you think you think he was happy?
) No, because he was turning in someone who saved his life.
Jean Valjean:
He did a lot of really good stuff. He got sent to jail for a really long time for just stealing a piece of bread, which doesn't make sense. Five years for a piece of bread and a bunch more for trying to escape???
(
What happened after he got out of prison?
) He changed his name and he tried to steal something from another person who gave it to him. Then he became a better person.
(
How did that help him become a better person?
) He knew that person was so good to him so he wanted to be good to other people, just like that person.
Then I asked her what the story was about:
It was about a guy named Jean Valjean. He lived in France.
Did you learn anything from this book?
No.
Did it make you think any deep thoughts?
No.
Do books ever make you think deep thoughts?
Yes -- ones that are complicated, but this one was very uncomplicated because it was cut down to almost nothing.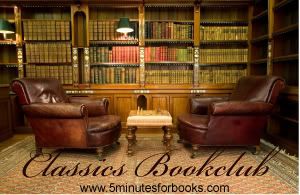 Check out
5 Minutes for Books
for some more willing participants in the Les Miserables edition of the Classics Bookclub. You can read my review of my re-read of this classic at the main post as well.