Today -- 3/14 -- is
Pi Day
.
Yesterday Amanda was trying to explain to her little brother Kyle what it meant, showing him the table-like symbol that her teacher had drawn on her face.
She asked him, "Kyle, what's a kind of pie/pi you can't eat?"
"Mud pies?" he answered, proving that he's very quick on the uptake.
********
Yahoo news alerted me yesterday to the
death of Myrtice McCurdy
, who was known for only wearing purple. After reading about her, I think that Amanda couldn't follow after a more worthy role model.
********
I haven't posted what I've been up to, reading-wise, in a couple of weeks.
I am looking forward, as always, to participating in
Katrina's
Spring Reading Thing. It excites me to set that goal for the season -- to really think about what I'm going to read. I also love reading about others' reading habits.
Find out more here: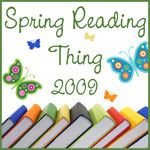 Reviews I've written in the last couple of weeks: