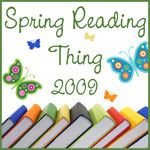 Amanda (age 10 1/2) also joined in the
Spring Reading Thing
this year. Here's her report.
My original list
had 13 titles, but I couldn't know which books to put on my list. I actually read 29 books.
Ms. Callapidder Days
asked some questions
, so here are some of my answers.
Did you finish reading all the books on your spring reading list? If not, why not?
Did you stick to your original goals or did you change your list as you went along?
I changed my list as I went along. Some of the books I wanted to read, I couldn't find at the library. I didn't read all the books on my list, but I read more books than I listed. My mom didn't let me read certain books, because she hadn't read them yet.
What was your favorite book that you read this spring? Least favorite? Why?
I liked most of the books I read. I starred * the books that I really liked. I started some books, but didn't finish them if I didn't like them, so they aren't on the list.
Did you discover a new author or genre this spring? Did you love them? Not love them?
I discovered Caroline Cooney. I really like her books.
What was your favorite thing about the challenge?
I liked seeing how many books I read in the Spring. I know I could've read more.
I didn't make links to the books, but if you want to check them out, you can search amazon.
By Wendy Mass:
*11 Birthdays (2 times)
Mango-Shaped Place
Nutmegs -- state book award
Archer's Quest
*Code Orange (Caroline Cooney)
Pieces of Georgia (aloud with mom)
Year of the Dog
*Double Identity
Others:
*The Moon by Night
Shadows of Diamonds (Caroline Cooney)
*Wanted (Caroline Cooney)
The Incredible Journey
News For Dogs
Violet Raines Got Struck by Lightning
*Harry Potter and the Order of the Phoenix
Hotel for Dogs
Savvy
Wings
*Trial by Journal
Molly Moon's Incredible Book of Hypnotism
Molly Moon Stops the World
Molly Moon's Incredible Time Travel Adventure
*Molly Moon, Micky Minus and the Mind Machine
*Sea Legs
Wolf Brother
Penderwicks on Gardam Street
*Schooled
Eragon
The Wanderer (almost finished)
I also listened to a lot of books. The last couple of weeks, I listened more than I read, because Mom got
*The Last Olympian
by Rick Riordan (the brand-new Percy Jackson book). I also listened to
The Chosen One
,
Chasing Vermeer
, and the
*Hunger Games
.