For Amanda it was all about
Catching Fire
** this month. She and I both read the sequel to Suzanne Collin's
the Hunger Games
(linked to our thoughts). and enjoyed it this month. She claims it's "even better than the last one!"
We thought that in addition to saying if you haven't read
The Hunger Games
just read it, already; we'd also make some recommendations for some of you who brought yourself right to the edge of the cliff with
Catching Fire
.
For younger
Hunger Games
fans
(and for the record,
The Hunger Games
is a more mature book and very intense book -- I'd recommend it for 5th grade at the youngest): Suzanne Collins'
Gregor the Overlander
series, written for 9 - 12 year olds. Amanda read a few of these in 4th grade, but she didn't finish the series. She's listening to the audiobook of Book 1 right now, and is planning to read through the series as she bides her time for the third installment of this one that she
loves
.
For teen (and adult) Hunger Games fans looking for more
, I couldn't help but make comparisons to the
Uglies
series by Scott Westerfeld, especially as I was reading the second book.
Another distopian book
that Amanda liked (and I am listening to on audiobook) is
Life As We Knew It
.
Do you have any other suggestions for those who are left hungering for the next installment in the Hunger Games series?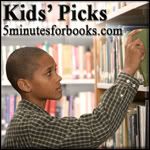 Find out what more kids enjoyed this month at 5 Minutes for Books
Kids' Picks carnival
-- join in the third Tuesday of each month!
**Enter our great
Catching Fire Giveaway
through TODAY only.