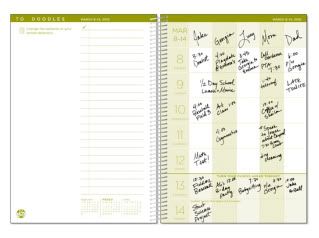 Today I had a blank square in
my BusyBodyBook planner
.
Well, not totally empty. There was a note that Amanda has early dismissal, and Kyle didn't have school today (Since they have early dismissal for conferences this week, instead of half-day Kindergarten they are going every other day for the entire shortened day). But there were no notes about needing to pick up someone or take a dog to the vet and there were no other responsive items that I have to do even though they don't end up on the calendar like having to take a forgotten instrument to the school in the morning.
In spite of no appointments and responsibilities, I filled that blank square. Since we're having company for Thanksgiving -- both houseguests (my sister's first visit here), and people coming over for the day -- a major housecleaning is in order. So I've been working on the areas that are usually hidden -- closets, cupboards and the dreaded always-in-need of tidying basement.
I didn't get quite as much done as I had hoped, with the regular responsibilities of making meals and snacks for Kyle, laundry, dishes, and pleasant interruptions like phone calls and requests to play a game.
But I enjoyed living in the blank square. It's been a while since it appeared and I don't see much white space in the days and weeks to come.