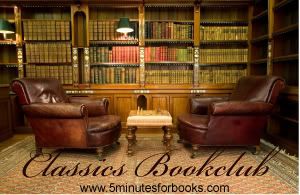 Over the last year, I've read almost all of the books that we've hosted for the 5 Minutes for Books Classics Bookclub. That's more than I've read in the last ten years combined for sure. It was a stretch for me, but I enjoyed it:
Pride and Prejudice
,
Jane Eyre
,
Les Miserables
, and
The Great Gatsby
all come to mind.
The team and I over at 5 Minutes for Books have struggled with what to do with it. It's a lot of work to administer, and our turnout -- while often enthusiastic -- was still small. However, most of us liked the idea, and we thought that it was a niche not quite being filled in the book blogging world, so we tried many changes to make it easier for those with the desire to participate to actually make it work.
So, we have restructured it to allow people to get together quarterly to post their reviews about the classics that they choose to read.
If you'd like to join in, check out the post at 5 Minutes for Books about the
New Classics Bookclub
. If you link up your own goals post by the end of January, you will be eligible to win one of two books.
I definitely want to keep reading classics. My goals are fairly simple, but there are several books that keep coming to mind, and so I'd like to get to them this year:
Pollyanna by Eleanor Porter -- know, I know, it's a "children's book," but it's completely iconic.
Lord of the Flies by William Golding -- Could this be any more current with

Survivor

-esque shows abounding and The Hunger Games series taking off? It's also completely iconic.
Aristotle's The Nicomachean Ethics --This is his work exploring happinesss, brought to my attention by the most excellent The Happiness Project book (review and giveaway forthcoming very very soon). It's a different kind of classic, but you can't get more classicly classic than Aristotle, can you?
I also have a copy of The Scarlet Letter (Readable Classics) that I'd like to get to this year as well. It's, once again, most definitely an iconic theme.

Four in one year. One a quarter. I think that I can manage that, and enjoy doing it.
What about you? Can you commit to reading even
one
classic work this year?? What one would it be? Let me know in the comments, or better yet, link it up over at
5 Minutes for Books
.