I know for a lot of people finding the time to read or forcing yourself to read something that will stretch you IS indeed a challenge. I have found that participating in Reading Challenges can help you turn the dream of reading into a reality. I know that it did all those years ago when Katrina at
Callapidder Days
had her first Fall into Reading Challenge.
Some readers participate in many year-long challenges, but this is probably the most I've been doing at any one time.
Carrie at Reading to Know is hosting the
L.M. Montgomery Reading Challenge
for the second time. The first time it was the push that I needed to read
Anne of Green Gables
(linked to my review) -- for the first time, ever. Me, a kid who had her nose in a book all the time, was never introduced to Anne. I decided to bring Amanda along for the ride so that she would not have to mention that in her therapy sessions that she had never been told that she might like Anne of Green Gables (
which she did
).
I told Amanda that Carrie was hosting the same challenge, and did she want to read
Anne of Avonlea
(I got it free on my Kindle!) with me? "I don't know," she said, "I guess I should."
"You don't have to," I told her, "but I think I'm going to."
"No. I want to. Let's do it."
So, we are both in.
This challenge only lasts for the month of January, so we've gotta get on with it.
******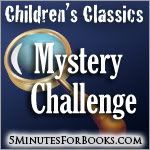 And continuing in the theme of children's literature, I am going to sign up for the 6 month long
Children's Classics Mystery Challenge
. I'm going to keep it simple and revisit an old favorite, Trixie Belden. I gave Amanda a beloved Trixie Belden book a couple of years ago, and she declared it boring and never read any more ever again. Since I practically lived on Trixie Belden in the 5th grade, I was shocked and appalled!
She did get into Nancy Drew a bit, but it was never her favorite thing. And here's a secret:
I find Nancy Drew boring
. That's right -- dull. I tried to read a book aloud with her, since I had never read them growing up, but I couldn't. Boring. Didn't do it for me.
Please read Carrie's post at 5 Minutes for Mom about her favorite Nancy Drew book, and favorite editions of them. We are giving away 5 beautiful lockets, so please enter now.
My goal for this is simple -- to read one Trixie Belden book, specifically
The Mystery Off Glen Road
, which is one of the originals by Julie Campbell. It's a challenge because I wouldn't read it otherwise.

Progress on the two other challenges that I'm participating in:
When I saw the
South Asian Authors Challenge
, I joined in, for that little push to encourage me to read some authors I've been wanting to read anyway. Just two weeks into 2010, I've already completed a book:
One Amazing Thing
by Chitra Divakaruni.
It wasn't even on my list, but when I saw this book on my amazon Vine list by an Indian author, I decided to chance it (the description was unclear about whether or not it explored the Indian/South Asian experience). As it turns out, it was ripe with cultural information. I enjoyed the author's writing, but the book itself read a bit more like a series of short stories, which is fine, but not what I expected. I will post a full review on
5 Minutes for Books
in coming weeks, but here is the link to
my amazon review
.
So I'm easily on my way to a goal of 5 this year.
I'm "reading" a book for
5 Minutes for Books
Classics Bookclub
right now as well. The free audiobook download for December at
christianaudio.com
was the
Brothers Karamazov
, so I decided to give some classic Russian literature a try. I'm a couple of hours into it. The audio version is nice, but it might be even harder to follow. I'm thinking that I should read a summary as I go to help me retain it. We'll see if I stick with it or not, but if so, that puts me through one of my goal of 3 for the year.