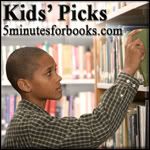 This month, I'm going to use this
Kids' Picks
spot to highlight some books we've been reading aloud (view more bloggers' picks at
5 Minutes for Books
).
When we were at the library recently, Kyle found a book that the librarian had put out on top of the shelves (bless them for calling our attention to great books that might otherwise get lost in the stacks),
Animals Under Our Feet
.
It's part of the "We Both Read" series, which has a page with more difficult vocabulary on it for the adult to read, followed by a page with a few sentences for your young reader to read aloud. Not only does it encourage a child to read (without becoming weary of it), but it has some larger words emboldened that are then repeated on the child's page. Since Kyle learned to read more with a whole language approach (self-taught, at that), this helps him adds words to his reading vocabulary such as nocturnal, predator etc.
When I was at the library alone, I picked up some more in the series, and he was thrilled to see them. We are currently reading
About Dinosaurs (We Both Read)
.
Amanda and I have almost finished (
less than 10 pages left
, but she had to leave for school this morning with it unfinished)
The Mysterious Benedict Society
by Trenton Lee Stewart. I know that by now every one with a child over the age of eight has heard of this book, and has said, "Oh yes, I should read that." I'll just add one more pebble on the scales of "read it now" that you are weighing in your mind. Though this was Amanda's third read of the book, she loved having me read it aloud to her. I will say that much of the vocabulary was pretty advanced, and at over 450 pages it is long, so if your child is not at at least a fifth or sixth-grade reading level, I would suggest doing it as a read-aloud. It's a very clever book, so will definitely appeal to older tweens and young teens as well.
One reason that I know it's a book that will be beloved for years to come is that it's the kind of book that as it's wrapping up, my first desire is to go back and read it again immediately. But alas, there is no time for that.
Yes, we are diving right into the second book,
The Mysterious Benedict Society and the Perilous Journey
. Amanda has actually not yet gotten around to reading the third one (
The Mysterious Benedict Society and the Prisoner's Dilemma
), so I'm hoping to convince her that we should do it as a read-aloud.
It took us a full three months, but there were a few weeks, especially over the Thanksgiving and Christmas holidays, that we didn't read a page. We read the last 100 pages after Christmas. So, with commitment, we can do better on future long books.
Now me:
There are a couple of mom memoirs (say that 10 times fast) that have
giveaways that are still open.
I enjoyed both of them:
The Water Giver
(hurry, last day to enter), and
All Things at Once
by Mika Brzezenski (open through Sunday).
I finally read a book by Amanda's favorite author Margaret Peterson Haddix --

Claim to Fame
.
I reviewed another cute book for older tweens,
The Sweetheart of Prosper County
.