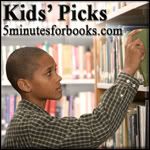 Yes, yes,
we made it to Disneyworld
and had a wonderful
wonderful
time. We've been home less than 24 hours, but I do plan to post more about our trip soon.
But today I will participate in
5 Minutes for Books
' Kids' Picks as I dip my toe back into the bloggy waters after a much-appreciated vacation break. Can you believe that I didn't even take my laptop?? I was at a blogging conference and didn't take my laptop! It was wonderful to be disconnected for almost a week.
Generally on the 3rd Monday night of the month (or before I rush her out the door on the 3rd Tuesday morning of the month), I am either verifying what I think her favorite read for the month was, or reviewing all the books I remember her reading and asking her to pick the one she liked.
In the weeks since our last Kids' Picks carnival, Amanda has read books 3 - 5 in the
Chronicles of Ancient Darkness
series. As she was reading them, she said, "I
love
this series. It's awesome! I'm choosing this for sure for my pick this month."
Wolf Brother
is the first book in the series and was a Nutmeg selection last year (our state's book award,which children select by popular vote). She read it some time ago, but only realized it was a series recently as some of her friends were reading it. The deeper in she got, the more she has loved it.
If your kids enjoy the
Warriors
series, this might be one they'd like. Conversely, as Amanda finished book 5 in the series, she tried to read book one in that series, but it didn't draw her in quickly enough. Apparently the
Chronicles of Ancient Darkness
are very
exciting
, which is key in this 11-year-old reader's book.
Good news for Amanda and other Chronicles of Ancient Darkness fans --
Chronicles of Ancient Darkness #6: Ghost Hunter
comes out in June!