As even Kyle is learning in Kindergarten, March is "in like a lion and out like a lamb." I've come to expect my own signs of spring that come along with turning the calendar page to March:
Unpredictable Weather
We've had some horrid and some quite nice weather over the last couple of weeks. The beginning of last week brought the first days that were pleasant enough to beacon us out of our little winter cave, but the end of last week brought cold rain. Today we had another day that almost reached 60. Kyle and I sat outside enjoying it, and I took part in my favorite pasttime -- enjoying beautiful weather and a good book simultaneously.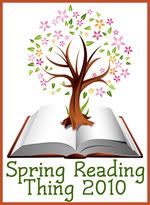 Spring Reading Thing
Speaking of books, I absolutely know it's Spring when Katrina hosts her
Spring Reading Thing
, and that time is here. If you've never joined in, it's a great way to connect with other readers. You link up your list of goals and can visit around as well. She's posting the master linky on Saturday.
I'm excited about it this year, because I have some interesting reading plans for the next couple of months.
Baseball
Terry's a baseball fan. He thinks that little boys who play baseball are cute. I think that baseball is sort of boring, and I also know that Little League takes a lot of time. Since Terry's job and commute does not get him home until well-past dark, I'm the one who handles weekday practices and games, and thinking of what baseball becomes after the age of 8 or 10 (a couple of loooong games and practices a week) has made me resistant.
But when one of his Kindergarten classmate's parents emailed us asking if any other boys were playing T-ball or baseball, and I found out that most of them were, and that there was a alternative to the dreaded T-ball that Amanda played when she was six (it was awful--seriously -- painstaking for me to watch), I bit the bullet and signed him up.
I do like organized sports: the scheduled exercise opportunities, the discipline and potential to develop skill, and I like how it gets us out in the community and helps us to get know other kids and families in the area.
So we'll see how it goes. I have to agree that he'll look cute, and for now the commitment is one I can handle -- one weekday practice and one Saturday game -- but for the first time we'll be juggling two sports when Amanda's Spring soccer starts. With both kids in school now, I know this is just the beginning of the juggling.