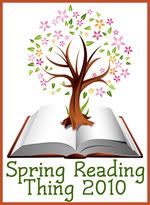 How is that I am now planning for June. June?? Already?? As dismayed as I am over the passage of time, I will soldier on and reveal my list of books that I plan/hope/will try to read during Katrina's Spring Reading Thing.
For the remainder of MARCH, I'm trying to finish up some fiction:
APRIL
This excites me. I'm going to TRY to make this an
all-nonfiction month
. I always put nonfiction on the backburner, even though I always enjoy it while I'm reading it. I will include memoirs (which people other than me seem to unabashedly classify as nonfiction, whereas I think it toes the line. Not because I doubt the verity of the words on the page, but because most memoirs read to me more like fiction, although maybe that's just me -- so it's not going to be all dry and factual, since I reach for memoir as readily as I do novels).
I was all set to read (finally finally)
Toxic Friends: The Antidote for Women Stuck in Complicated Friendships
, after
I asked my readers to tell me which nonfiction book
they wanted me to read in March, but then I got this idea of devoting a month to nonfiction in April, so I needed to finish some novels in March.
So it's at the top of the list. I also ended up carrying over the memoir that I was really looking forward to reading
Audiobook:
I'm even sticking to the goal in this category, since I recently bought
Columbine
on sale at audible.com. I've heard that it's an excellent nonfiction book, and I think I'm really going to enjoy it.
Exceptions -- are books that I read to/with my kids.
I am curious to see if I will end up reading less this month, or maybe more (because I am pushing towards my goal?).
MAY--
I'd like to get around to reading
The Book Thief
, which I bought when I saw it on sale, but who knows?
I also might read a
Hardy Boys
book for the
Children's Classics Mystery Challenge
. I already met my goal (of 1 book over the 6 months!), but I might try for this one too.
Some novels sitting on my shelf:
Secret Daughter: A Novel
A Good Confession
North of Beautiful
As Young As We Feel
I will probably need to catch up on some review novels that are offered to me in April, and I'm sure I'll still be chewing on some of the nonfiction.
JUNE--
I'd actually like to make finishing all of that nonfiction sometime this Spring as a primary goal.
So I'll probably focus on that, along with the fiction above, and any review copies that I have accepted. Seeing this list, I think that I will be careful about what I accept.