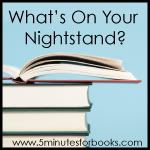 In April, I read a lot of books. I've stopped keeping track specifically (I really should get my
reading notebook
going again. It's lapsed in 2011). I've also had a bit of balance, since I am almost finished with a purely personal read -- a book I've wanted to read for a long time --
The Namesake
.
For May, I have quite a few books I need to get through as well.
I have a couple on my Kindle (yay!):
And then a big huge stack for review posts this month. I'm going to just show a picture, because I've been envious lately of the lovely book pictures I've seen, so I decided to make the effort this month.
I actually have two stacks. The one on the right are the books that I really need to get to (with the exception being the big chunk novel on the bottom. If I have time this month, I'll get started, and the way I've been reading, I have a feeling I will be able to start, but probably not finish, it).
The books on the left are quick reads or personal books that it would be nice to read.
If you need some suggestions of what to read, or if you want to peek at other people's nightstands, click through some of the links
over at 5 Minutes for Books
.