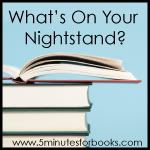 This month, I find myself with a LOT of non-fiction on my list (check out other lists at
What's on Your Nightstand
at 5 Minutes for Books)
Fortunately, I've really enjoyed the non-fiction books I've read recently. I have a big list in general, but I'm also looking forward to Spring Break at home with no schedule, no agenda, and with Amanda off on a mission trip, Kyle and I will truly just be able to chill, so I'm hoping for vacation-level reading!
NON-FICTION (for review):
The Source of All Things: A Memoir
by Tracy Ross
Behind the Beautiful Forevers: Life, Death, and Hope in a Mumbai Undercity
by Katherine Boo
Quiet: The Power of Introverts in a World That Can't Stop Talking
by Susan Cain
Lit!: A Christian Guide to Reading Books
by Tony Reinke
Just a Minute: In the Heart of a Child, One Moment ... Can Last Forever
by Wess Stafford
All of those are for review, and in light of my
reading goals
***, I stumbled across a great deal on the Kindle for Mitali Perkins'
Ambassador Families: Equipping Your Kids To Engage Popular Culture
, so I downloaded it, and have actually started reading it!
FICTION (for review):
The Land of Decoration
by Grace McCleen
The Rebel Wife
by Taylor M. Polites
These Girls
by Sarah Pekkanen
FICTION (just for me)
Redeeming Love
by Francine Rivers -- I've been wanting to get to this, but I think I will read
The Hunger Games
by Suzanne Collins first, a re-read in preparation for the movie's release in March. I listened to the audiobook the first time, years ago, and I'm not sure if I'm going to listen again, or if I'll read it. I did borrow the book free, thanks to the amazon prime kindle lending library, so I can do whichever. I did enjoy the audio version, but I wonder if reading it might be a different experience.
OTHER AUDIO:
Jordan Sonnenblick is one of mine and my daughter's favorite new (to us) authors.
Curveball: The Year I Lost My Grip
is his newest release, and I can't wait to hear it.
I just started
The Night Swimmer
by Matt Bondurant. I haven't gotten into it yet, but I hope it picks up. I think it will.
***How are my reading goals going, you ask?
My two primary goals were to read at least 12 books this year just for me, and to better catalog the books I've read, and I'm doing great with both of them.
I just finished
Run Your Butt Off!: A Breakthrough Plan to Lose Weight and Start Running (No Experience Necessary!)
, which I loved; as well as finally getting to Tim Challies'
The Next Story: Life and Faith after the Digital Explosion
, which was also interesting, and I'm almost finished with
A Year by the Sea: Thoughts of an Unfinished Woman
by Joan Anderson (which isn't as depressing as it sounds). I had already read one personal pick in January, and as I mentioned above, I've started another, so I'm on my way to completing five, with 2 more on my list this month.
I think that making the goal has freed me up a bit, and it's accomplishing it's purpose.
And the reason I can remember all this is that I do indeed have a Google doc set up where I'm tracking my reading. I had a good reading month:
3 audiobooks (2 YA and one memoir)
2 novels read
3 memoirs -- started and finished one, started 2 others to be finished in March
2 nonfiction books started (still in progress), and finished a 3rd and 4th, both of which I started in January
2 middle-grade novels -- finished 1, another one recently started